Our Kuala Lumpur stopover holidays: Kuala Lumpur stopover highlights
Disclosure: This post may contain affiliate links. When you buy through links on my site, I may earn a small commission. Thank you for your support.
My son and I travel to India at least once a year to spend time with my husband, who prefers to work there, and my father-in-law. In the ten years that we've been traveling from Manila to Chennai and back, we've flown our share of low-cost and full-service airlines. While I'd rather be flying full-fare every time, I've learned to make the most of flying budget. One way to do that is to spend a couple of extra days in the city where we are transiting. It's like having two holidays for the price of one. Such is the case with our Kuala Lumpur stopover holidays.
Since there are no direct flights between Manila and Chennai, transits are inevitable. Until about 2013, the cheapest option was Air Asia, which maintains a transit hub at Kuala Lumpur, Malaysia. Starting in 2009, we have holidayed in Kuala Lumpur about six times (both in inbound and outbound trips). It's a lively, colorful melting pot of Malay, Chinese and Tamil cultures. One might say that Kuala Lumpur is the intersection of the Venn diagram that is Chennai and Manila. Here I describe some of highlights of our Kuala Lumpur stopovers
Aptly dubbed the "one ticket to see it all," the Kuala Lumpur Hop-On Hop-Off Bus is a cost-effective and time-saving option for those wish to visit as many attractions as possible without having to worry about public transport routes and schedules. Tourists can hop on or hop off at any of 22 designated stops, including the National Palace, the Lake Garden, Little India, Chinatown, KLCC (Petronas Twin Towers), and Bukit Bintang.  Normal price is RM45(adult)/24 (child) for 24 hours and RM79(adult)/43(child) for 48 hours. We've taken the KL HOHO Bus twice in our Kuala Lumpur stopover holidays, and it was money well spent on both occasions.
Petrosains, The Discovery Center

Located on the 4th Level of the KLCC Surya shopping mall, Petrosains is an interactive discovery center that is sure to stimulate children's interest in science and technology. Exhibits include a prehistoric-themed diorama, 3D theater, an Formula One simulator, and a reasonable facsimile of the International Space Station. The overriding theme of the discovery center is petroleum science, which is no surprise when you consider that its main sponsor is Malaysian oil and gas giant Petronas. Motito was petrified by the animatronic T-Rex, but enjoyed the rest of the exhibits. He was in his "earthmoving machinery" phase when we visited in 2011, so operating the hydraulic min-digger in the museum was the highlight of our entire trip. Another fond memory he has of our Petrosains visit was the road safety video game where he had to learn how to avoid running over a cat.
The mall is our "safe place " whenever we travel. We don't go there to shop; we head straight for the food court, where the odds of finding a McDonald's is about 10 out of 10. To Motito, comfort food is chicken nuggets, cheeseburgers, French fries, and a hot fudge sundae. And since it's a food court, neither of us has to compromise on what we are having for lunch. I can leave him to his Mickey D's, while I satisfy my craving for nasi lemak and mee goreng.
Because you can't go to Kuala Lumpur and not see the gleaming twin skyscrapers where Catherine Zeta-Jones and Sean Connery pull off their final heist in the blockbuster movie "Entrapment." For RM85 (adult)/35 (child), you can take a guided tour and catch a breathtaking 360-degree view of the cityscape from the Skybridge and Observation Deck. Finding it too pricey, we gave it a miss and chose to marvel at the shimmering architectural wonder from the ground. Motito couldn't understand what the fuss was all about. He was too busy playing by the fountains.
Malaysian Indians form the third largest ethnic group in Malaysia, with nearly 2 million people self-identifying as having "Indian ethnicity." The colorful enclave of Little India/Brickfields offer travelers a sampler of Indian culture. Bollywood music blares from loudspeakers of shops selling everything from from sandalwood soap to silk sarees. Craving for authentic masala dosa and filter kapi? You'll find them right here. We've stayed in the Little India area twice, because it's a KL HOHO stop, a stone's throw from the KL Sentral station, and has some of the most value-for-money hotels in Kuala Lumpur.
Kuala Lumpur Butterfly Park (Taman Rama-Rama Kuala Lumpur)
Could there be any creature more harmless and gentle than butterflies? I'd say none, but Motito might beg to differ. The Kuala Lumpur Butterfly Park is a butterfly farm with landscaped gardens that host over 5,000 butterflies and exotic plants. My son simpered and sniffed as lovely butterflies floated all around him in vivid gossamer wings. The groundskeeper thought it was cute that a seven-year-old boy would be scared shitless by innocent butterflies that he tried talking my son out of his irrational fear. It kind of worked, because Motito stopped crying (out of embarrassment, perhaps). He even agreed to view the park's indoor insect exhibit. As he was going through his "creepy crawlies" phase, I'd expected him to be turning cartwheels at the sight of live bugs in glass terrariums and preserved ones in glass display cases. He put on a brave face, but I could tell he would start bawling again any time. We left the insect exhibit and bought a pack of fish food for RM5 to feed the Japanese koi fish in the park's pond. That, he enjoyed.
Hip and happening, Bukit Bintang is the main shopping and restaurant district of Kuala Lumpur. Trendy shops and chic restaurants line the street known as the Bintang Walk. As usual, I was doomed to suffer through a McDonald's meal because it's the only place where my son would eat. We didn't stay long, because as fabulous as this area of Kuala Lumpur may be, we've got places in Manila that can easily give Bukit Bintang a serious run for its money. Mainly, we came for the just-gotta-do-it strongman pose with the giant LED cube by YES 4G.
Dataran Merdeka/Merdeka Square
Literally translated as "Independence Square," Merdeka Square is where Malaysia proclaimed independence from British rule on August 31, 1957. The perfectly manicured grass field is surrounded by colonial buildings, such as the Sultan Abdul Samad Building, the Royal Selangor Club, and the former National History Museum. Inside the field stands a 95-meter flagpole, one of the world's tallest. A giant LCD screen airs sporting events, advertisements and religious messages. Dataran Merdeka is a must-see for heritage tour seekers.
The Kuala Lumpur City Gallery showcases the past, present, and future of Kuala Lumpur in rare photographs, intricately designed miniatures, and architectural models. Entrance is free and you can even sign up for a free guided heritage walk in the Dataran Merdeka area. Miniature representations of buildings and neighborhoods float my boat, so I enjoyed the gallery more than Motito did. Don't miss a photo opportunity with the giant I Heart KL sign just outside the gallery.
Other things we liked about our Kuala Lumpur stopover holidays
Bus ride from Kuala Lumpur International Airport-Low Cost Carrier Terminal (now KLIA2) to KL Sentral
The ease of connectivity between the airport and the city center is one of Kuala Lumpur's major selling points as a stopover destination. Our connecting flights would happen to land in Kuala Lumpur shortly after midnight. Luckily we always managed to clear immigration and collect our bags fast enough to catch the last bus to KL Sentral.I would fight off sleep during the 50-minute, soporific bus ride over a dimly lit highway that was nearly empty of traffic. Buses on this route have comfortable seats with ample leg room, and the air-conditioning effectively wards off the muggy heat. We would reach KL Sentral just when I was starting to doze off.
(I should disclose that we'd only transitted through the old KLCC terminal. In our 2014 Kuala Lumpur stopover, we missed the opening of the KLCC's replacement, the gargantuan KLIA2, by three weeks. From what I've read, the distances between the departure/arrival halls to immigration to boarding gates are substantial and can be quite a trek).
Public transport options to famous spots
Getting around Kuala Lumpur is cheap and easy. Trains, monorail and Light Rail Transit (LRT) are reasonably modern and efficient. Bus stops are clearly marked, and buses run with satisfying punctuality and frequency. They're all you'll ever need to cover all the popular tourist spots in Kuala Lumpur. For that last mile connection, there's always the taxi. Taxis come in Premier or Budget and can be hired for private tours. I'm wary of taking buses abroad; you'll never know if you have boarded the wrong one (until you find yourself in unfamiliar territory) or if it's taking an alternate route for one reason or another (which you did not prepare for). We would often travel by LRT, as it's nearly impossible to get on or get off on the wrong station. KL Sentral station, the integrated mass transit hub, is a sprawling complex of shops, restaurants, and entertainment centers.
Amazing variety of Kuala Lumpur hotels
We've done six Kuala Lumpur stopvers and stayed in a different hotel each time. From the Pan Pacific (now Sama-Sama) Hotel at the KLIA to the Metro Hotel in KL Sentral/Brickfields, hotels in the city offer a variety that is hard to match in any other Southeast Asian city. I've never regretted staying at any of the hotels we've booked (partly because I'm a beast when it comes to researching, particularly on tripadvisor.com). From experience, most value-for-money hotels are in Little India, Chinatown, and KL Sentral, while mid-range and pricier options can be found in Bukit Bintang and the Kuala Lumpur City Centre. Most hotels offer free wifi, buffet breakfast, in-room safe, and coffee and tea-making facilities.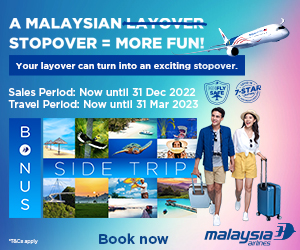 Thinking about making a holiday of your stopover? You can't go wrong with captivating Kuala Lumpur. Really, just pack your bags and go! There are several options to get there, from budget airlines like Air Asia or full-service carriers like Malaysia Airlines . Or you can you sojourn to sensational Singapore. My son and I have done a DIY Singapore stopover and you can read about why it's so easy to do.