A DIY Singapore stopover? Just do it!
Disclosure: This post may contain affiliate links. When you buy through links on my site, I may earn a small commission. Thank you for your support.
Perhaps no place in Southeast Asia takes tourism promotion more seriously than Singapore. As a top-notch destination for business, leisure, education and healthcare, Singapore practically ropes them in: tourist arrivals exceeded expectations at 15.2 million in 2015. It's no surprise, given that Singapore's Changi Airport and flag carrier Singapore Airlines consistently rank among the best airports and carriers in the world. Singapore stopover holidays account for a substantial number of international visits.
If you happen to be flying Singapore Airlines and will be transitting in Changi Airport, why not extend your layover and stay for a night or two? Starting at SGD65 per person, the airline's Singapore Stopover Holiday Packages, include airport transfers, hotel accommodation, and complimentary admission to over 15 attractions (a SGD400 value). But you don't have to fly with SA to enjoy a Singapore stopover holiday; you can put one together that suits your schedule, interests, and budget. A DIY Singapore stopover gives you more flexibility regarding sightseeing and accommodations.
My son and I had our own Singapore stopover adventure in 2012. We were traveling back to Manila after spending the summer in Chennai. Since there were no direct flights from Chennai to Manila, I thought we'd stopover in Singapore and make a holiday of it. Aside from being one of our memorable trips abroad, our Singapore stopover confirmed what many travelers have known all along about the dynamic city-state: it the most tourist-friendly destination in Southeast Asia.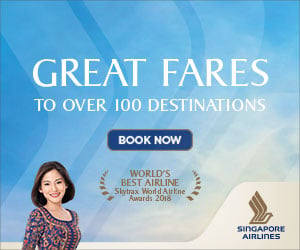 Reasons why it's easy to create your own Singapore stopover holiday:
Changi Airport has consistently ranked in the top three of Skytrax's World Airport Awards for the past 14 years. Changi is exactly what a traveler expects an ideal airport to be: modern, efficient, and, as a Travel and Leisure article has called it, humane. What other airports can boast five specialty gardens, a movie theater, dedicated Snooze Lounges, a rooftop swimming pool, Xbox 360 and Kinect stations, and children's playgrounds? Have a layover time of longer than 5.5 hours? Sign up for a free Singapore tour. Getting to or around the airport is a breeze with rail, bus, and taxi options. Don't forget to pick up one of the free maps and city guides that can help you plan your Singapore stopover.


The Mass Rapid Transit (MRT) and bus network will get you to your destination on time and on the cheap. Traveling with then-five-year-old presented unique challenges for me. Motito abhored taking long walks to get anywhere (his attitude has vastly improved since then). I needed to find ways to get to Singapore's famous spots conveniently and affordably. The city's efficient MRT and buses were just the solution. There also happened to be a bus stop right across our hotel (Value Hotel Balestier).
The must-see attractions are never too far wherever you happen to be staying. Singapore stopover holidays are never complete without visiting the Singapore Zoo, Universal Studios, Sentosa Island, the Gardens by the Bay, Marina Bay Sands, Orchard Road, Clarke Quay, and the Singapore Flyer. Fortunately, Singapore's top destinations are not very far from the city center. The only time we took the taxi was to go to the Singapore Zoo, and even then it was a 20-minute ride for about SGD25. Because of Singapore's excellent connectivity, it was easier for me to be spontaneous about where to go or how to spend our day without having to worry about getting back to the hotel.
You can see more of Singapore for less with the Hop-On Hop Off (HOHO) Bus. What could be more fun than exploring the best of Singapore aboard open-top double-decker buses? With HOHO buses, you can hop on and hop off as many times as you like at 22 conveniently located stops. Choose among various themed tour routes operated by Duck & Hippo and FunVee Tours. HOHO bus tours start at SGD23 (adult)/17 (child) for a 24 hours.
There's a wealth of online information to help you with planning your itinerary. Odds are you may already know someone who's toured Singapore. Otherwise you can always count on the destination experts on tripadvisor.com to help you put together an itinerary. Additionally, you can check out reviews of hotels, tours , and attractions in Singapore made by people who have had first-hand experience with them. Be sure to check out the websites of Singapore attractions to know how to get there, their operating hours and ticket prices. discounted admissions that are only available when you pre-book or buy your tickets online.
As you can see, it's hard to come up with excuses to not visit Singapore for a stopover. Apart from Singapore, my son and I have done numerous stopovers in Kuala Lumpur. Read about the highlights of our Kuala stopover holidays, and find out how it's a no-brainer, as well.